''The Comeback''
Season 2, Episode 2
Production Code: 2RAG03
[[

|250px]]
Written by Rocky Russo & Jeremy Sosenko
Directed by Zac Moncrief
First Aired: September 10, 2013
List of Episodes
Previous
Miracle Lake
Next
Woody's Girl
The Comeback will be the second episode in season 2 of Brickleberry, being the twelfth episode overall.
Woody's past life as a porn star is discovered by the rangers; Malloy tries to resurrect his career; Steve brings Denzel up to speed on the Brickleberry ghost.
Woody: It's time to bust ass!
This episode parodies the 1997 film Boogie Nights. Much like Mark Wahlberg's character Dirk Diggler, Woody was a rising porn star but he lost the ability to get erections due to his problems with cocaine.
Woody's stage name "Rex Erection" is a pun on the word "resurrection", which is a synonym for this episode's title and related to the episode's plot.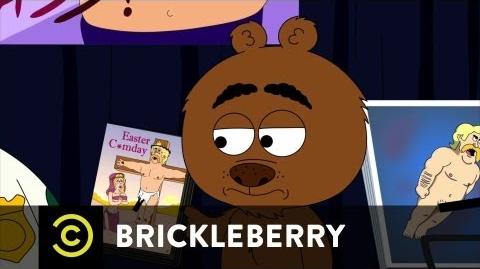 Community content is available under
CC-BY-SA
unless otherwise noted.