Ranger Games
is the 6th episode for the 2nd season of
Brickleberry
and the 16th episode overall.
The annual Ranger Games allow Brickleberry back into the competition, and Woody thinks they can finally beat Yellowstone when he brings in a ringer from Switzerland. Meanwhile, Malloy adopts a stray hobo to prove to Woody he is responsible enough to own a pet.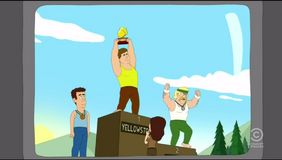 The tape of Woody modified to look like a woman, putting on lipstick, and showing himself naked while covering his back with a towel are a parody of Buffalo Bill from the 1991 film The Silence of the Lambs.