WELCOME TO THE BRICKLEBERRY WIKI!
---
About the Show
Brickleberry is an American animated sitcom created by Roger Black and Waco O'Guin. It premiered on Comedy Central at 10:30 PM, September 25, 2012 and has since been canceled after three seasons.
The show is about a struggling, mediocre state park in the fictional town of Hazelhurst, Illinois, titularly called Brickleberry National Park and it's angry, hot-headed, sailor-mouthed owner, Woody Johnson leading his ragtag team of hardly-competent park rangers, delightfully retarded manchild, Steve Williams, trash-talking grizzly bear, Malloy, gerontophilic token negro, Denzel Jackson, butt-ugly lesbian fatass, Connie Cunaman, and sexually attractive voice of reason, Ethel Anderson. The series focuses on the antics and exploits of these characters, constantly getting into chaotic situations such as infestations of adorable but evil rabbit-squirrel hybrids, attacks from nuclear bombs that reverse everybody's sexual orientations, and black-inclusive KKK rallies, all the while, trying to keep their beloved national park safe, sound, and standing.
News
January 7, 2015 - Brickleberry has been canceled by Comedy Central after three seasons. The remaining episodes will still be aired naturally but a fourth season will not be released.
April 14, 2015 - The ultimate, mind-blowing, epic series finale of Brickleberry, "Global Warning" premieres on Comedy Central tonight at 10:30/9:30c, sending this series off with a bang! In this finale, Woody gathers together a herd of cows to fart a bunch of songs into the air, just to spite Ethel and her crazy myths about global warming. However, Woody's cow fart army causes an army of alien cows take over the world and kill everybody. Meanwhile, Malloy exhibits an embarrassing phobia of cows and Denzel drives him crazy by spooking him with bovine pranks all week long.
July 20, 2016 - Brickleberry creators, Roger Black and Waco O'Guin released a serialized comic book franchise based on the series called Armoogeddon, which continues the show's lore where the televised finale left off. This comic book features a badass, grizzled Steve coming back from the future year of 2045 to save Brickleberry from its cow apocalypse.
August 30, 2018 - The creators of Brickleberry, Roger Black and Waco O'Guin have created another TV show called Paradise PD, which has now premiered on Netflix. This show is about a delightfully retarded 18-year-old cop named Kevin Crawford, who looks exactly Steve Williams, only with blond hair and a cop suit. He also has the same voice actor, David Herman. There's also a loud, pissed off father named Randall Crawford, who works as his boss, who sounds exactly like Woody Johnson and has the same voice actor, Tom Kenny. They all work at Paradise Police Department, which is basically a stand-in for Brickleberry National Park. Other characters include Bullet, a trash-talking animal, Gina Jabowski, a hot girl, Dusty Marlow, a fat idiot, Gerald Fitzgerald, a stereotypical black guy, and Stanley Hopson, a bisexual racist old man, ... who looks like nobody. All the cops fight crime, bust drug cases, and beat people up. So, if you're still upset about the show's cancellation, you can watch this one that's basically the same thing.
March 6, 2020 - Brickleberry returns on Netflix for an unnecessary but awesome crossover with its sister series, Paradise PD, cleverly titled "Paradise PD Meets Brickleberry". In it, Woody's cousin Randall Crawford comes on down for a visit, bringing all of his cops with him. An epic brawl between the cops and rangers breaks out and all hell breaks loose in this hour-long commercial-free bash. Note that unlike the comics, this crossover is 100% canon to the Brickleberry lore and all of the original voice actors for the cast will be reprising their roles, just like old times.
Countdown to Next Episode
ERROR:
Due to the show's cancellation on (01/07/2015), the "Countdown to Next Episode" machine is permanently out of commission as no "next" episodes exist.
Upcoming Episodes
Coming Soon ...
---
DISCLAIMER: Due to the cancellation of Brickleberry, (effective January 7th, 2015), the "Upcoming Episodes" template has officially become irrelevant and as of the time of this announcement, (April 15th, 2015), will be permanently retired as it has long since become meaningless as a Wiki template. Thank you for viewing.
- The "Upcoming Episodes" Template Staff
---
Most Recent Episode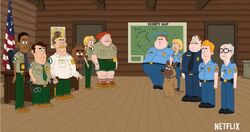 March 6, 2020
In an episode crossover with Paradise PD, Woody fails to pay the mortgage for Brickleberry National Park, making its impending foreclosure inevitable. Ethel worries about a mysterious poacher kidnapping animals in the park but her problem is overlooked due to the park's fate dangling from a pube. To make matters even shittier, Woody's deeply despised cousin, Randall Crawford, drops by for a visit, saying that he's a police chief at the Paradise Police Department now and has brought along everyone from his side of the family and even his employees from work. Soon enough, a massive brawl breaks out between the Brickleberry park rangers and the Paradise PD officers, during which Malloy mysteriously disappears from the map. Worried sick, Woody allows Randall and the cops to stay in Brickleberry to help him and his rangers search for Malloy. Will the rangers be able to find Malloy? Will Ethel uncover the identity of the poacher? Will Woody pay the fucking mortgage for the park? Will Denzel jerk off to his gerontophile porn featuring the old lady with the droopy pussy? Find out all of this and more on the all-new, hour-long, kick-ass special episode of Brickleberry. Available for streaming on Netflix.
Community content is available under
CC-BY-SA
unless otherwise noted.