Baby Daddy is the seventh episode of season 3 of Brickleberry and 30th episode overall.
Plot
Ethel becomes pregnant after she gets drunk and sleeps with Steve, while the other rangers are sent to a mental hospital. She becomes determined to end the baby causing a complicated controversy in the pro-choice and pro-life movements.
Meanwhile, Woody (then followed by Denzel and Connie) are locked in a mental institute for telling a sanity therapist their adventures in Brickleberry. Malloy refuses to tell the therapist that Woody isn't insane, so that he can get back at Woody for locking him outside the drink bar which allowed a gay dog to sexually pursue him. However, without Woody around, there's no one to provide food and electricity for Malloy.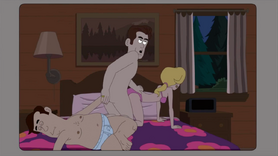 The gay dog meanwhile keeps stalking Malloy on his phone and then directly.
Trivia
Pop Culture References
SKYMALL!!!!
Malloy shows Ethel a photo of actor Jonah Hill (on the right) for the film The Wolf of Wall Street on what her baby would look like.
Woody's detailed (yet poorly conceived) plan on how he, Connie and Denzel would escape the hospital could be a nod to Ocean's Eleven.
Steve's pregnancy pictures for Jorge are parodies of Demi Moore's Vanity Fair nude pregnancy picture.
The red-haired female patient at the mental hospital was singing "Hello! Ma Baby" to Woody
Steve being pregnant to Ethel's baby may either be a reference to Thomas Beatie who was the world's first pregnant man or the film Junior, which features male pregnancy. Dr. Kuzniak even mentions the latter film as he plans to see it in theaters in C section.
Community content is available under
CC-BY-SA
unless otherwise noted.