Amber (voiced by Tara Strong) is the hot, but intellectually challenged, new chick ranger whom Woody hires to replace Harold, who has retired after 20 years at the fire tower. However, Amber's hiring jeapordizes Ethel's role at the park, after Woody becomes attracted to Amber and disowns Ethel completely.
Amber however gets sick of getting by on her looks, so Ethel teaches her to become a great ranger. After Denzel inadvertently starts a forest fire, she rushes over to save the animals but is severely burnt in the process. Because of the burns, she's no longer beautiful and Woody decides to fire her, but then Ethel defends it's what's on the inside that counts and defends she does deserve a job at Brickleberry. Amber is then sent to the fire tower where she is entertained by the pasta animals singing "EAT US!"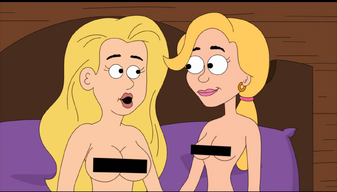 Trivia
She looks very similar to Tiffany, only with blonde hair.
Her breasts are visibly much bigger than Ethel's.